1.
On a cooking roll! On Tuesday we made a roast in the slow cooker. I really want to start utilizing the slow cooker since it will be a lifesaver when I go back to work. We have a slow cooker recipe book but I found a
recipe
on Pinterest (my new favourite go-to website!) that looked pretty good.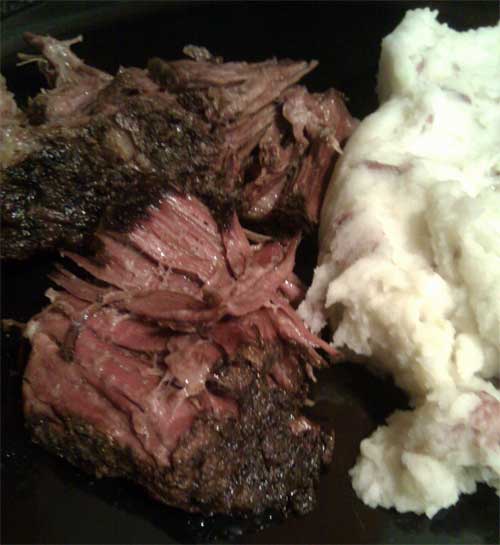 Slow cooker beef roast
We altered the recipe a bit by putting less cayenne pepper in (didn't want it too spicy for the little one... or me!), used fennel instead of carrots (because we had the former and not the latter) and put a beer in even though the recipe didn't call for any liquid.
Verdict? I thought it was pretty dang good! Hubby thought it was so-so. We probably won't be making this particular recipe again but will definitely do another roast in the slow cooker again soon.
2.
Tuesday's run was cold, very icy and snow covered path ways. I almost fell (in the last kilometer again) but caught myself. The ladies behind me asked if I was a former figure skater so apparently it was a graceful save! Audrey stayed home with Daddy which was the best choice all around.
I missed last night's group run since I had a girls night with some friends instead. I will make up the run tonight.
3.
Busy preparing for our vacation. Timing couldn't be better with all the snow we have been getting. It will be weird wearing shorts and shirts again. I was liking the scarves and boots! Not complaining though- will have lots of opportunities to wear those in the upcoming months!
I am bringing the computer so I will probably blog a few times. We will be skyping with Daddy a lot since this will be the longest time we have all been apart! Can't wait for him to join us!
Mom, I'm not impressed with these hat, mitts and boots!
Let's go somewhere warm!
Got one mitt off!
Going to shovel snow (in the baby carrier)