1.
I really need to stop drinking anything but water while sitting on the couches at home! A few weeks ago I spilled my entire cup of coffee onto the carpet- I knocked it off the coffee table with my feet. A few days ago, I had a cup of tea sitting on my lap, it tipped over and soaked my pants and the leather chair. And then last night I had my tea in my hand while Audrey climbed over me and spilled it all over the fabric couch and carpet. I really can't be trusted anymore with drinks in the living room. At least it wasn't red wine.
Coffee stain- looked way worse in person
Came out with the steam cleaner
2.
The race photos from Harvest Half are available now. I won't be purchasing them as I look horrible in 98% of them. I will share this photo since I don't look too awful.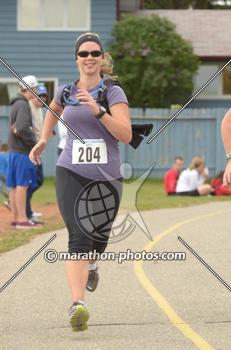 My photographer from last year was way better!
3.
I received my 5 Year Anniversary gift from my company yesterday. I've been there for almost 6 years but they just started this program so I still get a gift! It came in a beautiful engraved wooden box, with a big chocolate bar and personalized HBC gift card. Perfect gift- something I can eat and go shopping with!
What's the worst thing you have spilled on your carpet/couch?
Does your company give out anniversary gifts?